Dog Grooming Services in Candler, NC
If you're seeking a pet groomer in Candler, NC, then look no further than Woof Gang Grooming Candler. Our professional pet groomers deliver tailored service with a delicate touch to get your pet looking and feeling their finest. We groom all types of dogs. Whether your dog requires a simple wash and brush appointment, or it is time for a little bit of special spoiling, our hardworking crew is here to assist with all of your desires for dog grooming. We offer a hygienic, safe, and pleasant area to clean your dog. At the time of booking, please mention your dog's age, temperament, and size category in order to better help us match you with the appropriate groomer and services. Make a reservation for your appointment today.
See more grooming pictures here.
**Asheville location only: Ask us about our limited time Holiday Sparkle Package!**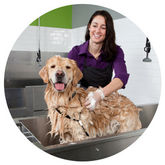 Full-Service Grooming
Your pet is going to be given a bath, clipped, combed, and beautiful head to toe.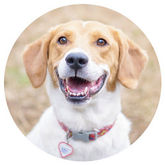 Bath & Brush
Our bath service includes shampoo matched for your pets' coat type, leave in conditioner, brush out, nail trimming and filing, and ear cleansing.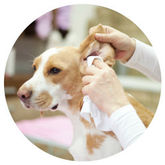 Ear Cleaning
A dog's ears are delicate and vulnerable to infection, excessive wax buildup, and ear mites. Cleaning your pet's ears reduces build-up to help hinder infections and reduce the smell.
Included in the full-service groom.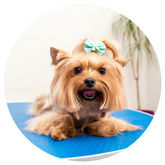 Face Trim
Several pooches need a haircut from around their face. Our groomer will be able to help you identify the perfect style for your dog.
Included in the full-service groom.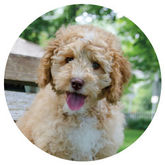 Haircut
We provide breed-specific haircuts. Cuts feature shampoo, dry, and hair trimmed on their head, paws, and bum.
Included in the full-service groom.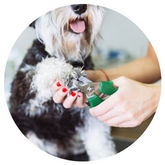 Nail Trim
We cut nails to a prudent length, just short of the toenail quick. Nail trimming prevents painful nail cracking or nails breaking.
Included in the full-service groom.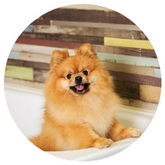 Sanitary Trim
For long hair doggies, sanitary hair cutting may be needed to cut long fur from around the bum.
Included in the full-service groom.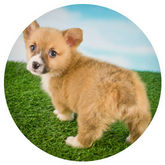 Anal Gland Expression
Anal gland expression can help hinder symptoms connected with anal gland irritation. Glands can become infected if liquids are not drained naturally.
Included in the full-service groom.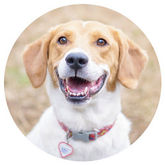 Teeth Brushing
Protect against bad breath, tooth loss, and gum disease with regular teeth cleaning for a healthy smile.
Service offered at additional cost.
Come visit our pet supply store in Candler, NC specializing in quality food, treats, and supplies for cats and dogs.